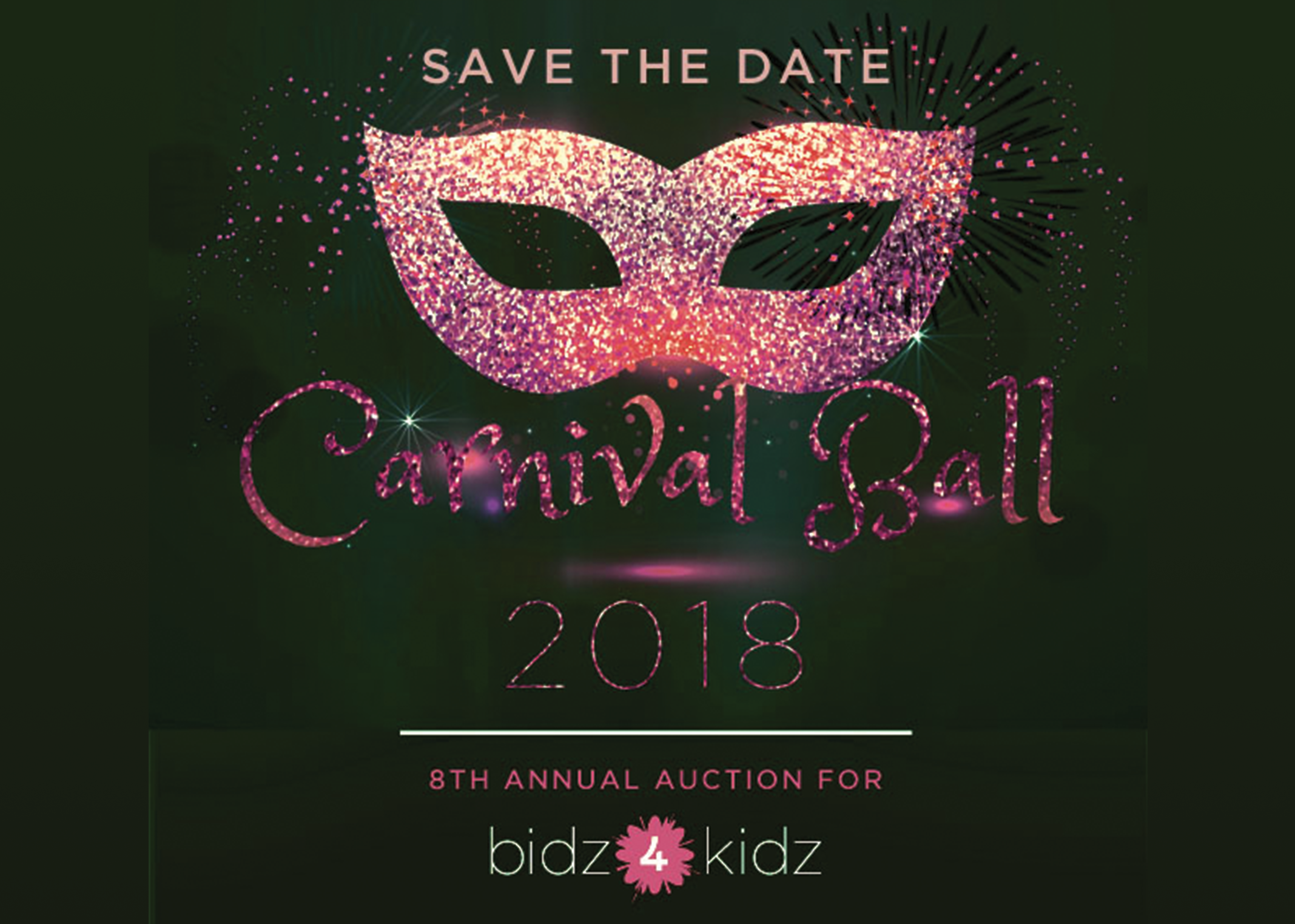 Event Description
Our Annual Bidz 4 Kidz Auction will be held Saturday, June 9th, at the Hyatt Regency Convention Center. This event will include a sit-down dinner as well as both a silent and a live auction. Money raised from this event will be used to purchase new toys for the 12,000 children we will serve through our Dolls for Daughters® and Toys for Boys® Program and our families in our Kenzi's Kidz program.
Join us for an evening of fun.  This year's theme is going to be a Carnival Ball, the dress is cocktail attire with masks.
Event Details
Date: Saturday, June 9, 2018
Location: Hyatt Regency Convention Center
Time: 6pm
Tickets:
$130 Individual Ticket
$255 Couples
Includes:
Dinner & Live and Silent Auction
Register for event or sponsorship
Sponsorship Opportunities
(limited to one)
Impact the lives of 88 low income children in Colorado through our Dolls for Daughters® & Toys for Boys® Program in December
Company/Business listed as the single Platinum Sponsor of Bidz 4 Kidz 2018
Prominent Corporate logo placement on all event print and marketing collateral including invitation if secured by April 12, 2018
Visibility as Platinum Sponsor in all press releases and event promotion
Ten (10)complimentary tickets to the event, $950 value
Opportunity to speak during the Bidz 4 Kidz program
One (1) Foursome to the Dolls for Daughters® & Kenzi's Kidz 2018 Invitational Scramble, value of $800
Visibility as a Corporate Sponsor on Dolls for Daughters®' website for one year, dollsfordaughters.com
Ten (10) features on Dolls for Daughters®' Facebook page (2,346 fans and growing)
Blog spotlight on our website
Entitled to the first right of refusal for Platinum Sponsor of the 2019 event.
(Limited to 1)
Impact the lives of 55 low income children in Colorado through our Dolls for Daughters® & Toys for Boys® Program in December
Company/Business listed as aGold Sponsor of Bidz 4 Kidz 2018
Corporate logo placement on all event print and marketing collateral including invitation if secured by April 12, 2018
Visibility as a Gold Sponsor in all press releases and event promotion
Ten (10) complimentary tickets to the event, $950 value
Visibility as a Corporate Sponsor on Dolls for Daughters®' website for one year, dollsfordaughters.com
Six (6) features on Dolls for Daughters®' Facebook page (2,346 fans and growing)
Blog spotlight on our website
(4 Available)
Impact the lives of 33 low income children in Colorado through our Dolls for Daughters® & Toys for Boys® Program in December
Company/Business listed as a Silver Sponsor of Bidz 4 Kidz 2018
Corporate logo placement on all event print and marketing collateral including invitation if secured by April 12, 2018
Visibility as a Silver Sponsor in all press releases and event promotion
Ten (10) complimentary tickets to the event, $950 value
Visibility as a Corporate Sponsor on Dolls for Daughters®' website for six months, dollsfordaughters.com
Four (4) features on Dolls for Daughters®' Facebook page (2,2346 fans and growing)
Blog spotlight on our website
(Table Sponsor)
Impact the life of 10 low income children in Colorado through our Dolls for Daughters® & Toys for Boys® Program in December
Name placement on all event print and marketing collateral including invitation if secured by April 12, 2018
Visibility as a Bronze Sponsor in all press releases and event promotion
Ten (10) complimentary tickets to the event, $950 value
Visibility as a Sponsor on Dolls for Daughters®' website for one month, dollsfordaughters.com
One (1) feature on Dolls for Daughters®' Facebook page (2,346 fans and growing)
(Sold Out)
Impact the lives of 5 low income children in Colorado through our Dolls for Daughters® & Toys for Boys® Program in December
Name placement on all event print and marketing collateral including invitation if secured by April 12, 2018
Visibility as a Goody Bag Sponsor in all press releases and event promotion
Two (2) complimentary tickets to the event, $190 value
Visibility as a Sponsor on Dolls for Daughters®' website for one month, dollsfordaughters.com
One (1) feature on Dolls for Daughters®' Facebook page (2,346 fans and growing)