Life can be tough, and no one knows this more than an underprivileged family. With the parents working long hours to bring in enough money to keep food on the table and clothes on the kids, the idea of having fun and splurging on extra activities is usually never considered. At Kenzi's Kidz, we realize the benefits of fun, family activities. They bring joy and laughter into children's and family's lives and that is worth more money than we could ever give away. Through partnering with MOTH Contemporary Circus Center, we were able to provide three of our Kenzi's Kidz families with an amazing, fun experience.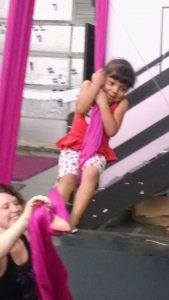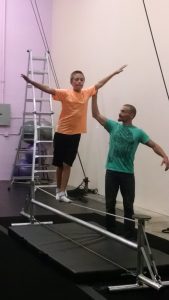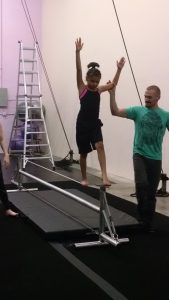 MOTH Contemporary Circus Center is the premier circus and aerial training facility in Denver, designed specifically for professionally-minded circus artists. Through their Community Outreach program, they give underprivileged youth the opportunity to train, perform, and create with the MOTH coaches. Not only does this program give kids an incredible athletic experience, but it also helps them develop life skills such as confidence, team building, trust, and life-long friendships.
On October 1st, our seven kids and three adults were trained by MOTH Circus  coaches Deena and Stephen. They learned juggling, tightrope walking, fabric climbing, and jumping on the trampoline. The favorite event of the day: the trampoline by far! The MOTH Circus coaches were incredibly positive with the kids and really encouraged them to try out all the different activities. Not only was it fun to watch the kids have fun learning these acrobatic skills, but seeing them develop their confidence as they tried new things was purely rewarding.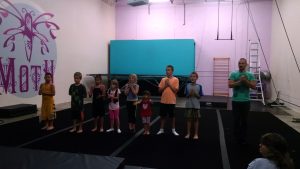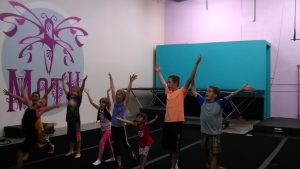 I thank MOTH Contemporary Circus Center for the opportunity they provided to our three Kenzi's Kidz families. This will definitely be an experience they will never forget. I'd also like to encourage you to learn more about MOTH Contemporary Circus Center. They provide an invaluable service to underprivileged kids and are still trying to meet their fundraising goal for 2016. Any support you can provide them would help them reach more kids throughout the Denver area and continue to allow them to offer this invaluable program.