Youth Advisory Board Members
I'm a 7th grader at Goddard Middle School. I love to play soccer but I would also like to play football. My favorite Christmas gift was my first Xbox I loved this gift because it gave me a way to play with my friends in different ways than I could before. I chose to join Kenzi's Causes because it so rewarding to see a child's face light up when they get their Christmas present.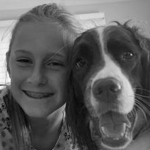 I am a 7th grader at Goddard Middle School. I am new to the Youth Advisory Board as of April 2019. I enjoy soccer, basketball, playing the violin, reading, and spending time with my friends and family. My favorite gift I ever got was a trip to Yellowstone with my grandparents. I remember how excited I was and that's when I decided I wanted to help with a non profit. I wanted to help the kids that wanted toys or gifts because I new that the felling of getting a gift that you want is one of the best things that can happen. Being at the Toy Shop really changed my perspective of what Kenzi Causes does. I hope I am able to be involved with the other fundraisers that are coming in the new year. I am really looking forward to helping kids.