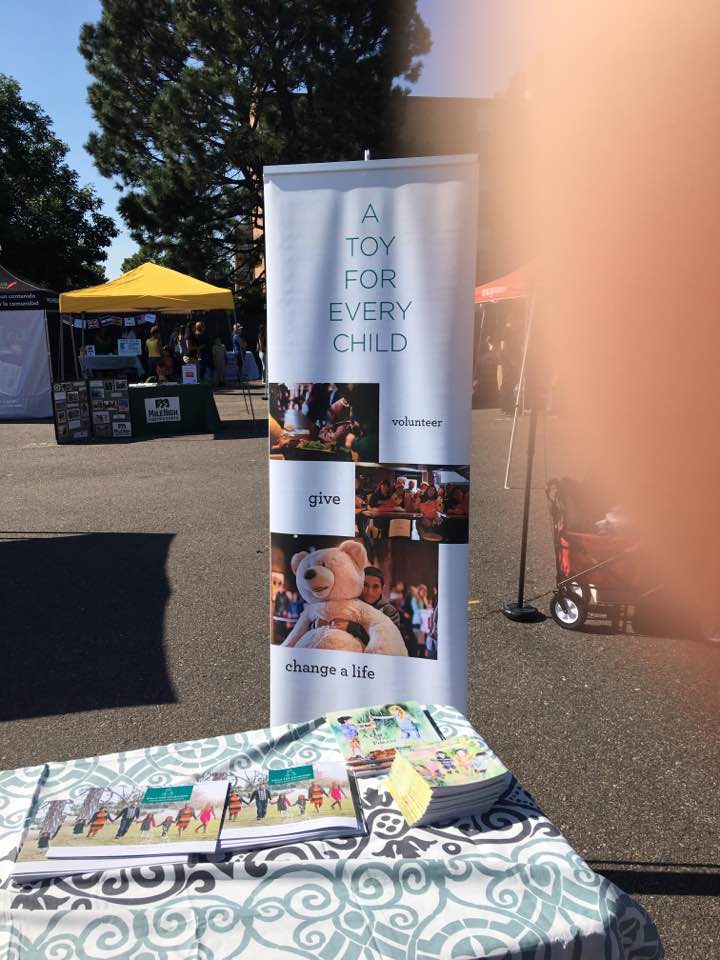 Last Saturday, August 20th, Dolls for Daughters® had the pleasure of participating in the Kids Choice 5th Annual Health and Wellness Fair.  This incredible event is hosted by Kids Choice Dental and its aim is to give back to the community by serving free food and desserts, giving away raffle prizes, playing music from a guest DJ, and providing an opportunity for local youth dance groups to perform.  With over 1500 people attending this event, it's an amazing opportunity for companies who provide services to lower income families to educate, enlighten, and engage attendees and participants about the options available to them.
Kids Choice Dental provided free dental, vision, and ortho screenings for families at the fair.  They also offered a cleaning with X-rays for only $49.  Quality dental care can be difficult to obtain for some families and this event makes these necessary services available for anyone who attends!
Other highlights from the fair include 70 bicycles that were given away as well as a bicycle repair area for attendees to bring their own bikes to be serviced.  Other companies such as UPS, were looking for employees and providing new job opportunities.
Dolls for Daughters® has been lucky enough to be invited to this event for the past three years and we look forward to continued participation!  Our goal at this event is to inform and educate the community about our Annual Toy Shop (held in December) which provides assistance to 6,000 children ages birth to 18 by gifting each child with a new toy, a Lego set, a stocking, a new stocking stuffer, a new book/bookmark and a new toothbrush and toothpaste kit.  We have also partnered with Walgreens for the past two years to offer free flu shots to those who attend our Toy Shop.
Our participation at the fair also serves to enlighten the community, and other companies, about the various ways Dolls for Daughters® and Kenzi's Kidz offers assistance and support for those in need.
Thanks to our Packz for Kidz program, we were able to give out 16 backpacks filled with school supplies to some of the kids who attended the Health and Wellness Fair this year.  (The other 286 backpacks were given out at our official Packz for Kidz event earlier this month.)
We love opportunities to connect with and educate those in our community who could benefit from the services and programs Dolls for Daughters® offers.  We thank board member, Alex Benko for his time spent running the DfD table at the Health and Wellness Fair this year and helping us make those connections and relationships that will ensure our success in the community.