As June 9th quickly approaches, myself and everyone over here at Dolls for Daughters, are getting extremely excited for our next event, our Bidz for Kidz Annual Dinner and Auction.  This event is held at the Willshire Golf Course in Denver and features a live and silent auction, sit down dinner, cash bar, putting contest, and award ceremony.  Last year's event drew in 100 people and was very successful!  
We are looking forward to another entertaining and fund-raising event this year with even more guests in attendance!
Here's what the night will look like: guests will enter the event hall around 6:00 pm and will enjoy a fabulously crafted cocktail from the cash bar.  While sipping their beverage, they will mosey on over to the Silent Auction table to write in their bids for a wide variety of donated items. Once they feel good about their bid, guests will head over to the putting contest.  Participation costs $10 and the winner receives half the pot! Dinner arrives next and guests enjoy a delicious dinner of beef, chicken, or veggie and enjoy a complimentary glass of wine.  They'll chat with the other guests at their table, catching up with old friends, and making the acquaintance of new ones. MC Kyle Dyer will give awards to our supporters, including businesses that collected the most toys in 2015 for our Dolls for Daughters and Toys for Boys programs.  
A live auction will then proceed, with items such as tennis racquets and balls, golf games, an Audi jacket and Audi swag, museum tickets, an autographed Nolan Arenado bat, and other fun items up for bid!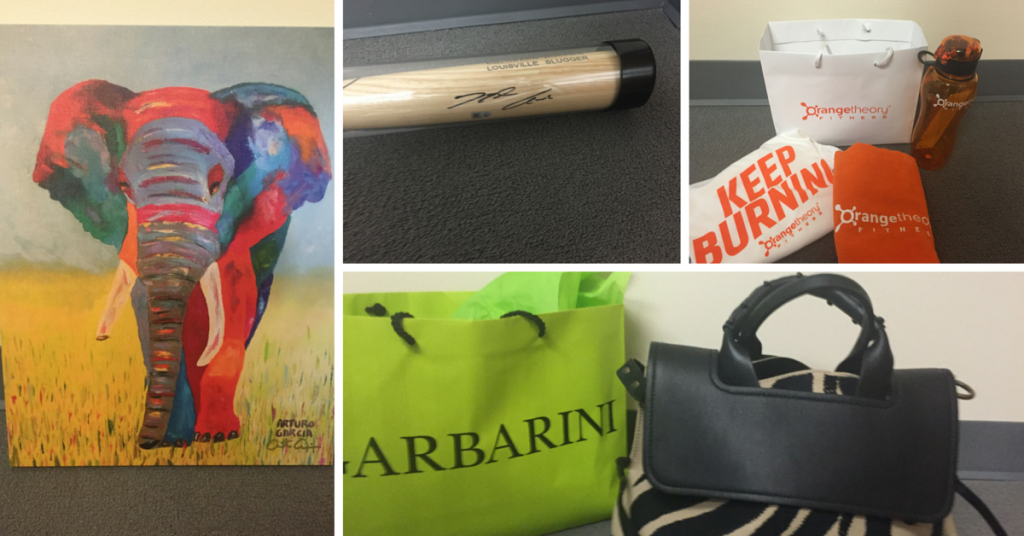 Everyone has a phenomenal time at our Bidz for Kidz Annual Dinner and Auction and we raise much needed funds for the organization.
Since everyone inquires about the funds raised, and because we are so honored to receive such amazing donations, allow me to share these numbers with you.  Last year's Bidz for Kidz Annual Dinner and Auction's live auction raised $34,000 and the silent auction brought in an additional $3,000!  This money allowed us to run our programs for the following fiscal year and to assist in serving our sponsored families.  We were able to distribute 88 new backpacks filled with school supplies for families in need last August.  These funds also allowed us to have our most successful toy shop ever!  We were able to publish 3,500 copies of our book and provided 3,500 children with stocking stuffers over the Holiday season.  We were able to provide new toys for the 4,442 children we serve and an additional 1,261 children throughout Colorado through our Dolls for Daughters and Toys for Boys programs which are run through our toy shop.  And the greatest benefit of these funds, we were able to fund six families instead of four through our Kenzi's Kidz program.  We know all the kids and families appreciate this assistance, and I am thrilled that we were able to serve so many children and families in the Denver area!  Your contributions and donations are put to great use and are deeply appreciate by all involved in our programs.
We would not be able to put on this annual event if it wasn't for the generous contributions of time and funds by our sponsors.  We are lucky enough to have KB Digital Designs, Reign Magazine, Telemundo Denver, and ABDenver sponsoring our event this year.  KB Digital has actually been supporting us for five years and is our program photographer.  They donate their time and services to ensure we can continue with our mission.  
If this event sounds like fun to you, tickets are still available and can be purchased HERE
.  
I just want to thank everyone in advance who will attend and support this event!  It is great to be able to spend an evening mingling with you, getting to know you, and to be the beneficiary of your generous donations.  I could not do what I do without your generosity!  From the bottom of my heart, and from all the kids and families support by Kenzi's Kidz and our programs, THANK YOU!