Even though we are in the heat of summer, it's time to start thinking about heading Back-to-School!
For many of us, going back-to-school shopping is exciting! We love going to the store with our kids as they pick out their new crayons, pencils, notebooks, and backpacks. But for some families who are barely getting by, the added financial stress of back-to-school shopping can be overwhelming and the shopping nonexistent. To ensure the kids who are a part of our Kenzi's Kidz program (current or alumni) have the necessary tools they need to succeed in school, we have created our Packz 4 Kidz program! Through generous donations from our sponsors and people in the community, we fill as many backpacks as we can with a variety of necessary school supplies to prepare the kids in our program and for heading back-to-school. This is also the first year we are opening this program up to other families in need outside of the Kenzi's Kidz program.
This year, we are raising funds for our Packz 4 Kidz program by partnering with Kendra Scott Jewelry in Cherry Creek. Kendra Scott will be hosting a free Back-To-School Celebration on Thursday, August 11th from 6 – 8 PM. The Celebration will include sips, sweets, and jewels! 20% of the proceeds from the evening's sales will benefit Dolls for Daughters®. In addition to the beautiful jewelry already on display in the store, Kendra Scott has designed a signature DfD necklace that will be available for purchase!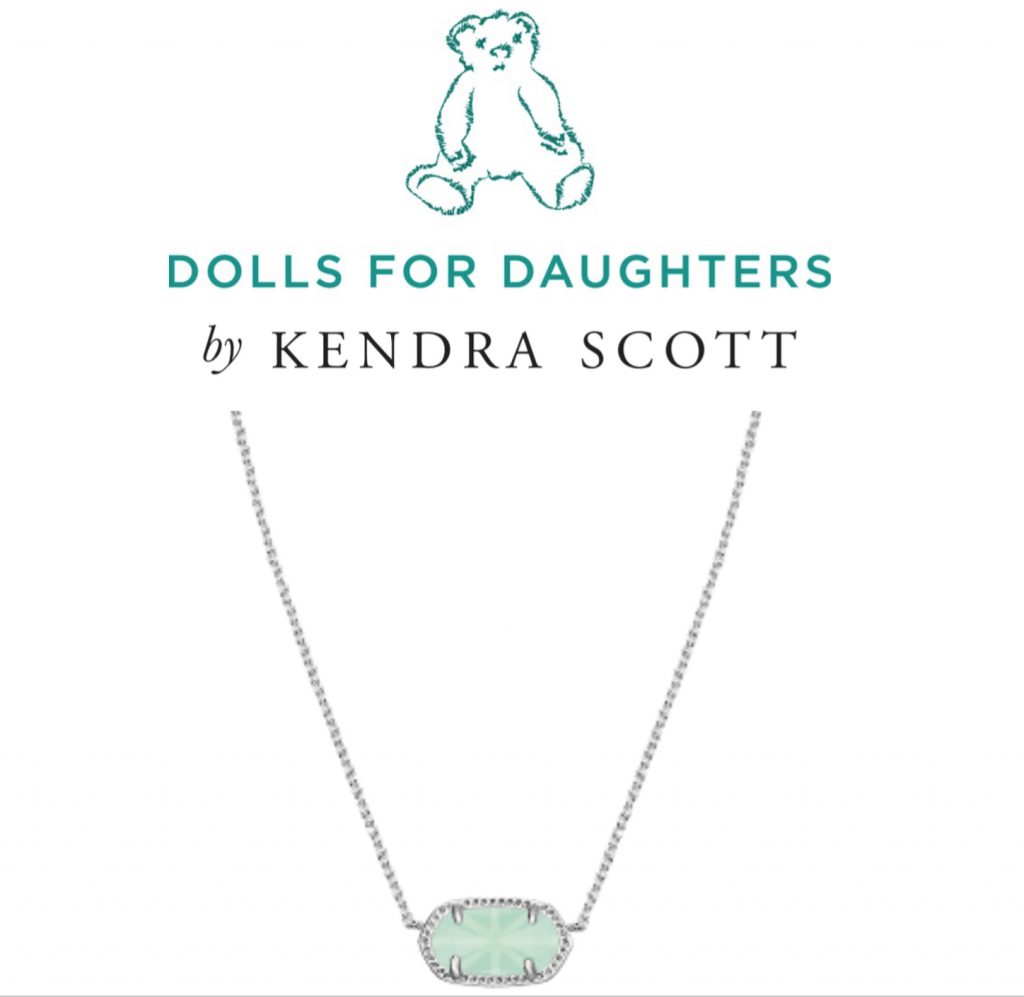 Want to help out, but can't make the event? Don't fret! You can call in your order on August 11th (anytime), pay over the phone, and Kendra Scott will ship your items to you for free! 20% of your phone order will also benefit DfD, just be sure to mention Dolls for Daughters® when you're placing your order.
KENDRA SCOTT CHERRY CREEK NORTH
175 Fillmore Street, Denver, Colorado 80206
720-381-2999
KENDRASCOTT.COM
We are very excited to be partnering with Kendra Scott for this event. Her company, over the past 12 months, has donated one million dollars and 50,000 pieces of jewelry to various charities and organizations nationwide! We are honored to receive her assistance and generosity for this Back-To-School Celebration and we would be honored to have YOU in attendance!